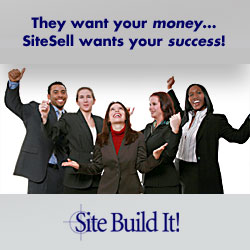 Some of my subscribers and my blog readers ask me to give them a plan they can follow, implement straight away and that fits their small budget to create a successful home business.
I know most of the people are too impatient and want to make money as soon as possible. They want instant satisfaction. They get discouraged when they don't see immediate results and give up.
But, when they see money flowing they get encouraged for their efforts and achievements. Not only does this build confidence but it also helps build excitement and the desire to grow their businesses. As the time pass by they gain skills and experience that make the next income project much easier.
So here is a plan, a budget, and a timetable for creating your home based business and start making money online using the Site Build It! (SBI!) strategy and tools, but with a little twist, and it will work like a charm.
I know most of it can be done with FREE online tools. But I don't encourage you to do it this way. If your time is money, the solution is in SBI services. You can speed up, enhance or automate the process if you can afford to invest some money.
Why this little twist?
Site Build It! go straight to building a website and in my experience this strategy takes some time to start seeing results. As a result and as I said before most of the new businesses give up early just because they don't see immediate results. So, follow this strategy and you will start making money as fast as you implement what I'm about to give you.
It's obviously not the only plan that you can or should consider, but I'm sure it is a good starting point for anyone willing to make immediate profits to support his/her online business expenses while building a roaring business.
It
is not a rule or regulation. You can modify it to suit your business needs, specific talents, experiences and budget.
I wrote this action plan for people who are comfortable online, but who have never used the Internet to make money. If you are a green newbie you can start from "How to Start Work at Home Business On Strong Basis
articles series.
Once you learn what needed to create a home business and you feel that you are ready to start, come back to this page and go on with the process.
Remember this plan is not some magic wand that will make everyone a winner. You totally understand that nothing of value happens without hard work, persistence, and passion.…
Read carefully, work hard, and enjoy…
Get Ready and Make Your Decision.
In this plan, I will show you an easy way for being a successful home-based business entrepreneur using the powerful web design, search engine optimizer, and a web marketing program called Site Build It!
Why Site Build It!?
You don't need to assist costly seminars or to buy an expensive course to succeed. Site Build It will guide you toward becoming a successful entrepreneur. It will provide you with everything that is involved in building your small business, and they will help you to decide what home business you should pursue.
It will point you to the right side, the one that shows you how to use the Net to build your business effectively and economically, no matter what kind of business it may be.
How Much Will You Make After 30 Days, 3 Months, 6 Months or Even One Year?
I don't know! This is no "get rich overnight" scam promise. You might make a few hundred dollars within few days; maybe you can't make a cent all the time or you will start making good money in few weeks.

It's all up to you - and how well you follow the process. The steps I'll guide you through are ones anybody with basic Internet skills can take easily. There's nothing fancy or complex.



How Much Does It Cost?



If you can write your own articles you don't need to invest more than USD 29,99 monthly payment or you can pay 199.00 for one year to get everything you ever wanted!
Hosting with unlimited bandwidth
Sequential AutoResponders,
Integrated e-zine publishing functionality,
Custom form/survey/poll creation,
Integrated link exchange program,
Web Page optimization - No need to hire a website optimizer.
Graphic Tools- No need to learn how to create logos, headers, footers, etc… its all included
Don't take my words for it, go where you can check by yourself…



- Compare prices and services

- Read what people around the globe are saying about SBI!

- Take a tour to check it out.

-Read about the stories

of people who have built successful businesses through Sitesell.com.





Do your homework … do some research and see if SBI! is for you!

See our SBI Site build it review, for more details.

After all SBI provides the Services free of charge for an initial 90-days trial period. Use it tries it and if you find that SB! Is not for you ask for your money back.
The bottom line...
If you take 3 hours every day, follow the simple instructions and stick to your schedule, at the end of 2 weeks or less you will have...
Your website online in front of millions of people
Your blog set-up, customized, searches ready, linked and integrated into your marketing plan to truly support your efforts.
- Promote the products and services and increase the sales.
- Automate the task of getting quality leads.- Help you manage your contacts.
- Help you with the daily tasks that you must accomplish.
- Gain the knowledge and develop the skills necessary to successfully and confidently create as many businesses as you can handle.
- Maybe you start making some money at no time frame.
If you are ready and have made your decision here are the...
Action steps:



1 –

Go to

5 Pillar Affiliate program

and sign up as an affiliate

. Take advantage of what they offer to their affiliate members. In this way, you learn for free and most of all you are learning from the best.



2 - Order Site build it,

and

get an advantage of their 90-day FREE trial.

As an affiliate of 5 Pillar Affiliate programs, you can buy SBI through your affiliate link and make your first check! That's 25% of the regular price.

3- Download SBI! Action Guide. This ebook will walk you through the process of building a website that will earn you money. Read it thoroughly and don't do any thing. Just follow my plan for now. Refer to SBI Action Guide at every step.



4 –

Find your niche market

– Using Site Build It! tools finding the niche that suit you most is a snap. Even if you have decided what niche market you want to build your business around I suggest you use SBI strategy and tools to make sure it's a winner.





You will need to do a little brainstorming to find those areas of your life that are possible ideas to build your business around. Find a niche that you have some interest, passion or experience in and PROFITABLE enough. Ideally you want to focus on a niche that fulfils all four of those requirements.





A common problem most of people face when starting their own website is to decide on what their website to be about and find out what niche is a winner and what one is a loser.



5 -

Select a domain name and register it with SBI!



6 -

Find Your Produc

t - Go to ClickBank.com and search for products related to your business theme. For instance pick 2 affiliate products to promote. So if you want to focus on the fitness niche, choose the best fitness related affiliate products. In general I visit all the sales pages to find out which one influences me the most.



Open a Clickbank account to join any affiliate program you want to promote - it's free.





7.

Create a landing page

- The goal of this page is to capture the names and email addresses of your website visitors to build your opt in email list. You can use SBI! templates or get another one.



Here's a step by step tutorial that will show you how to create an effective landing affili

l

ate capture page for FREE!

8.

Create 7 part eCourse

- Using SBI, create your eCourse in HTML format. Put each lesson in a single page and upload it to your website.

Do you want to learn how to create your e-mail courese? Click here to learn how for FREE!

Include Adsense adsor AdBrite ads

or both at the top, bottom and center if the particular lesson is long enough.





Note:

AdBrite ads are keyword targeted and not contextual. So you can use them with AdSense Ads. The AdSense terms only restrict the use of contextual ads.





Also, you will be promoting one affilate product and site build it package per lesson. Lesson 1 promotes Product 1 and SBI! Package, Lesson 2 promotes Product 2 and SBI! Package, Lesson 3 promotes product 1 and SBI! Package again, and lesson 4 promotes product 2 and SBI! Package again and so on.





Or, you can promote each product per lesson or find the best way you want to use to promote your affiliate products.





9.

Set up your autoresponder

- Create a short teaser email about each lesson of the ecourse that encourage your subscriber to go to your website to view the lesson. Remember to link to your lessons from your emails. Place your emails on your autoresponder.





We want them to go to your website because of Adsense and AdBrite revenues.





10.

Test out your system

- Go to your squeeze page and sign up for your list to make sure that your system is working properly. We want to verify that you are being sent to the right pages throughout the process.
Make sure that all your web pages look good, and your AdBrite and Adsense ads are showing up. Also, click on ALL of your affiliate links to ensure that they are active and working.
Your system is no ready to take action and you need just to build traffic. If you can afford to pay you can use Pay Per Click Search Engines or use articles marketing strategy to send traffic to your website.



11.

Create a list of keyword phrases

– With sitesell you don't need to use any paid tool to find the right keyword phrases that target your niche market. As said above you have all tools you ever wanted.



Create a list of 100 keyword phrases that you think will be effective when using them to optimize your landing page, your blog posts, your website and the articles you want to post to articles directories.
Take your time to select the best keyword phrases. For more information on how to select your keyword phrases refer to Search Engine Keywords Selection article.

12.

Create your author resource/bio box

- This is an incredibly crucial part of the system that you need to spend some time on. Even if you write a great article with a strong introduction, a lot of useful tips, keeps the readers wanting to read more you won't get traffic to your website if you don't end by creating an effective resource box... more>>>

13 –

Prepare your content

– This is the hardest part of starting a business for most of online businesses without exception.





To get the very best value out of your website, new customers contacting you or ordering your products, you need to wow your readers with great content – a lot of it!





The key to success for selling online is to create valued content where there is demand. Your visitor doesn't want sales pitches, they are not looking for hype or media excellence, they are looking for relevant up-to-date content that is of value to them.





If you are a good and fast writer and know something about online marketing, then your business creation time and cost are reduced by the half.



If you think that writing text is too hard, or you don't have time to do it, you can get a membership to a website that offers Private Label Articles

if your budget is too small. But if you can afford to pay, you can find a freelancer on Elance.com who can do it for you.



Think about this; Even if you have a brand new single website page with no rankings on any search engines if you use article marketing the right way, you will not only get targeted traffic to your website and make sales but you will also get your web pages to rank high.



So, our first step is to bring traffic to your landing page to build your opt in email list, make some quick cash and in the same time get it to rank high at the search engines' results for long term organic traffic.





14.

Write your articles

– Start writing an article targeting your first keyword phrase. Be sure to include the keyword phrase in the title, in your opening paragraph, in the body of your article and in your closing paragraph.
Writing articles is a pretty basic action. You start off by saying what the article is all about. Then you talk about the importance of the product or service or what else you want to write about. And then you end with a paragraph summarizing what you just said.


15.

Open an account at

EzineArticles.com
and GoArticles.com
and submit your first article to both. There are a lot of other articles directories where you can submit your articles, but these are the most profitable directories you should consider.
Most people submit articles because they heard that it is a good marketing strategy. In reality they have no idea what it will do for them and how to use article marketing to get the most of this incredible tool.
Here are few tips you should consider:
- Submit one different article to each directory. Or,
- Make some changes to the original article to get tow different articles and submit each one to a directory.
- Make your signature files unique in every article you want to post. Use a different keyword phrase when you want to link to your home page, or link to a different deeper page of your website or blog.
With what said above I really do not feel it is going to hurt you to get the same article posted on several different article directories. But following the above technique will help you a lot more with the major search engines and especially with msn.
From some article submitted to EzineArticles and GoArticles directories. I have got between 300 and 450 visitors a day for several weeks just by submitting good articles. The more people like your article the more they publish it or link to it, and in turn brings more traffic and help increase your websites search engine rankings.
16.
Repeat this process with the remaining keyword phrases as many time as you can
- Be sure to submit the article as soon as you complete it, before beginning to write the next article. Try to get all 15 articles written and submitted in no more than 2 days.
Doing so, you will see a surge of traffic to your website resulting in more sales and leads and this is what we are after. So, force yourself to write and submit the initial 15 article or so in 2 days or less and you will see big results all at once.
Make writing and submitting articles your daily habit. Write and post at least one new keyword dense article every day; the more the best.
Remember, there's a lot more work you should do to build your business. We are not after only some quick bucks. We want to build a lasting money making home business.
So, do not forget to take a break. Yes, do it. Take a day or tow off. Go out and have fun to refresh your mind. I'm waiting :)
You are back? Nice to meet you again…


I hope you have found some cash waiting for you. If not don't get discouraged just keep writing and submitting articles. See your website stats and find out what is wrong. If you don't have a website stats analyser you can get one FREE at statcounter.com
or you can get one at
google.com
.
After a month you will have 45 articles or so working for you. You should be getting a fair amount of traffic to your squeeze page. My squeeze page converts between 10-25% of website visitors. Yours will probably do the same or why not better.
You should start to see an increase in daily Adsense and AdBrite income generated. You will also see affiliate product sales growing as your subscribers go through the series of autoresponder messages you are sending them out.
And, If you keep writing and submitting articles the right way, you should maintain or further grow your monthly income.





What I suggest here is to reinvest your revenue. Hire a freelancer to write articles for you because you will need more text for your blog and your website and to continue posting articles to articles websites.





At this point you have a system working for you and making you money to support your marketing efforts. As I said before we are not after few quick bucks. We want to build a business that will make you good money. So, our next step is to…



17 -

Create your blog

-Go to blog blogging tip article to learn how to create a blog that will help your business in many ways. Hey, don't forget to read the related articles.



Why?



Search engines love blogs for two main reasons:
- First, blogs are usually written in a simple format making them exceedingly easy for spiders to work through.
- Second, blogs are dynamic content management systems, as opposed to static websites.

With a blog, you can interact with your customers and can boost your Web presence.
A blog gets fast indexing in the search engines.
A blog will help you build links, attract new visitors to your website, position you as an expert, etc…
Don't forget to make posts everyday about your topic of matter. Don't forget to cross link your squeeze page and your blog. Also make sure to link from your articles to your blog by creating a new resource box that links to it.




18 –

Build links

- Our articles submission strategy will change a little bit. We want to get as many link as we can we need thousands of links to your blog. So, start submitting your articles to as many articles directories as you can.



19.

Create your website

– I know it's a lot of work it's very hard especially for people like I was when I first started.
But be sure it will pay back. The more you learn the more the work become easier and easier and the more money you will make.


Using SBI! tools building, optimizing, finding the right keyword phrases, submitting your website to search engines, or what ever needed to get your website up and running is a game.
20
- Market your business
– People will buy anything as said, just how you sell it, some people are born salesman and can sell ice to Eskimos, others can't. Even if you are not a salesman you can always learn. Marketing is what makes or break any business. So, make sure to market your business as wisely and aggressively as you can.


Implement valuable strategies for web site promotion that will work for you as long as you stay in business.
21 -
Explode your email list
– If you want to make it big, use every possible way to collect your prospects email addresses. Getting people to optin in to your list is not as easy as it used to be. So implement strategies to boost your list building efforts. Use incentives to help you build your list fast.
Remember, it doesn't matter how big your email list is If you don't develop a relationship with your subscribers, you won't build your credibility and trust.
One of the biggest complaints of most people surfing the internet is the question of integrity and trust of the information they have in front of them. If you can develop and keep that trust, your subscribers stay with you and you'll find them more than happy to buy your recommendations.
This plan can work in any niche. Just follow it and you'll do well.
Now, you can say that you have a business and not any business. You have a business that will change your family life style for ever.