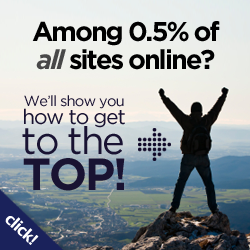 Once your website is up and running and everything is alright, the product you want to sell online is ready, or you have signed up for an affiliate program your autoresponder is setup to send your e-mail course or your freebie, your next step is to create your squeeze/landing page.
As you may know, even with a killer sales letter or a good content, only around 2 out of 100 people will buy your product or click on your affiliate link the first time they visit your website.
Wouldn't you like to capture a big chunk of those other 98% people in the future? This is exactly what will happen when you catch your website visitors email addresses using a great leads capture page.
So, what is a landing page?
What Is a Landing Page?
A squeeze page or as known also landing page or lead capture page is simply a web page where visitors are directed to whenever they click a result in a web search or whenever they click a web ad to go to your work at home business site. It's like any other web page in a particular web site.
Landing pages are used particularly when we pay for the traffic, with banner ads, sponsor links, traffic exchange, or pay-per-click to build an email list.
Some marketer redirect traffic directly to their products' sales letters or to their affiliate merchants' web sites and some others use their home pages as the landing page for their ads. This is a big mistake they make.
Why I need a Landing Page?
The main reason marketers use squeeze page is because they can build their list quickly and easily than if they put an opt in form somewhere on their websites.
If you want to achieve something more from your online business, and if you want to earn a lot of profits, you should build your opt in email list and to do that you MUST create a special landing page for your web ads.
Why? You have paid money to get this visitor to your website. If a visitor buy that's great, but if s/he leaves your website without buying or leaving contacts information is a lifetime customer lost forever. S/he may never come back again.
How a Landing Page works
When the visitor arrives at this page, they are presented with a very short sales letter that tells them how this report, ebook or ecourse will benefit them and what to do to get the gift. In general they should fill in an optin form with their name and email address to get the freebie.
This opt-in form should be attached to your autoresponder, which should send them an email telling them where to receive their, email course, free ebook or the welcome message, and then adding that name and email address to your opt-in list for future use.
Your landing page text should be customized for the visitor. When you write your text you must always have the customer in mind. Therefore, your landing page must be relevant to the keywords and the contents you placed on your ads. By providing a good match, your chances of engaging the visitor to subscribe to your list will increase.
Give the same visitors exactly what they were looking for and you will have a captive audience. Be careful not to provide too many distractions in the form of links, or you are likely to lose them before they read your entire message.
How To Create A Killer Landing Page!
You don't need to know about HTL to create your squeeze page. You need some tools to make the whole process as painless as possible.
What You Need?
1. You need a web page editor like FrontPage, which is already in your PC if you are PC user.
You can get a free or low cost WYSIWYG web page editor. WYSIWYG is an acronym for "What You See Is What You Get". Web pages editors are very easy to use just follow the instructions for using any software and you'll be ready to use it in two hours or less.
Here's a great Free Website Builder - You will love it!
2. The code to create your opt-in form. This code you will be generated from your autoresponder when you set up your account.
3. A hypnotic eBook cover, software box, CD covers or any other cover for any other information product you want to promote. A landing page with Image of your information product is one key to higher conversion rates but it's not a must if you can't afford to to get an ecover.
The design of a landing page is very simple. It's a direct response principle to generate specific actions from visitors. These actions may be registrations or sign-ups, in exchange of a freebie.
The best use of a landing page is not how it's designed, but what it can do. You don't need graphic if you don't want to.
Treat your landing page as if you are writing a sales letter for a product you are selling, even though you are giving your report away for free and charging $0 for subscription to build your customer base which is your email list; because if your sales page can't sell, you can't convince visitors to do what you want them to do.
When your visitor arrives at your Lead Capture Page, you want to sell the benefits of joining your E-zine or subscribing to your ecourse and getting the free product. If there is nothing in it for your visitors, there is no compelling reason for them to click any further.
Before we go any further lets take a good look at what types of landing pages are used.
Different Types Of Squeeze Pages
There are two different main types of squeeze pages:

1 - Instant access form

- This form of pages works very well. What you are doing in this page is telling your visitors that they are about to get instant access to a website that contains great information about a subject that your site visitor interested in or to download a quality ebook or software that will help them make money or save time and all they have to do is fill in the form and hit submit.
Before you continue reading, take a look at this squeeze page sample for a good example of a successful "instant access" type of squeeze page (Feel free to modify and use as you see it fits).
Create a short squeeze page, and to the point. This page might be a good model for you to follow. Before you decide to use this model, let's take a look at the second type of squeeze pages that you can use. Make sure also your entry page don't accede a full screen, what appears on the screen in the browser, without the need for your visitor to scroll down or to the right of your capture page.
2. The Mini Sales Letter Model -

This form is widely used. It's basically a short sales letter to get people to subscribe. It focuses more on the benefits of whatever it is you're trying to get people to interested in. This could be free ebook, free software, free service, free ecourse, or any thing else you want to offer. Here's a mini sales letter sample to look at and model.
Using this model of squeeze page requires more time to write a good mini sales letter about the benefits of whatever you want to offer.
What To Offer To Your Landing Page Visitors
"Free" is the most powerful word in a marketer's vocabulary. Most marketers give away valuable products or services to attract attention. Quality incentive like a valuable free ebook, software or a free service is a good method to capture website visitor attention. Spell out your freebie benefits clearly in your entry paragraph. This makes it easier for visitors to mentally connect the freebie to opting in.
The Opt-In Form Of A Landing Page
This part is pretty easy. All of autoresponder services have form creation tools built into their control panel. Just copy and paste the code into the source of your web page. This process will require a basic understanding of HTML.
You can place your opt-in box anywhere, however I recommend placing it in the middle of the page and within the text.
Make your opt-in box visible. Make your subscription box stand out by choosing a background color to draw your visitor's eyes to the opt-in box. Make sure that the form looks neat, professional, and clean.
SIDE NOTE:

Also, make sure that you state somewhere below the form that you will not share the reader's email address with any other organization. People want to know that you're not going to sell their email off to some spam list broker.
Mistakes People Make When Creating Their Squeeze Page
Mistakes #1

– Most of marketers think that FREE is enough of a selling point. Just because something is free, doesn't mean all online users will rush to subscribe to your opt in list to download your freebie. If you don't value your gift no one else will do! Take the time to write a good sales letter, ads, articles, etc… to promote it right and you will get the rewards soon.
Don't think that the freebie that you are giving away is really free. Because they don't pay money out of their pocket you think is free! The price that the reader pays is his time. They have to spend their time reading, downloading or deleting your freebie. The bottom line is that you have to sell people on your free stuff just like you would a paid product.
Mistake #2

- The most common mistake is using small font when writing text. Tests have shown that anybody over 40 years may have difficulty reading eight point size.
Mistake #3

– they ask for too much information on forms. Some marketers ask too much information on forms such as fax number, phone number, etc… Every additional question lowers achievement rate.
What You Should Do to Create a Great Squeeze Page?
Take your time when creating your squeeze page, and you'll be rewarded with an opt-in list that grows larger and larger with each passing day.
If you want to get better results test and optimize your landing pages. Test everything; test your headlines, your entry paragraph, your bullets benefits, your graphics, collars, etc…
I suggest to create the two models test them and use what goes better with your targeted market.
If you still don't have a squeeze page for your ads, your product, your newsletter or any where you want you better start creating one now. And don't get me wrong; it isn't enough for you to have just a landing page; it should be a great one!
Hey! Remember the money is in the list and you should have a system working for you to create your list.
Design Your Thank You Pages
-

Create a Confirmation in Process web page. This is the page that the new subscriber will receive when s/he submit his/her name and email address. In this web page you can say something like, "Thank you for submitting your information. Your subscription request is being processed and you will receive a confirmation email in a few minutes.
In the meantime, let me tell you about a product that I recently found interesting and you may be interested in. It's called "Put The Name of Your Product Here" and you can find out more by clicking here.(link to your affiliate product or to your website).
- Create a Subscription Confirmed web page. This is the web page that every subscriber will receive when s/he click on the confirmation link in the email s/he received. I always try to sell them again. In this page, simply thank him for subscribing to your mailing list and give him a brief overview of the eCourse or your freebie.
When you are setting up your autoresponder account and generating your opt-in form code you will be asked for your thank you pages URLs. All you have to do is to put your thank you pages URLs where appropriate.
Once a visitor subscribes to get your ecourse or freebie, s/he is instantly redirected to your thank you pages where they will find links to your poduct sales page, one time offer or to the affiliate program sales letter you are promoting. By this way you build your opt-in email list and in the same time you send traffic to what you are promoting.
This is his first exposure to the offer. S/he may or may not purchase at that time, there's no problem with that. Our primary goal is to capture visitors' email addresses to hook them with our follow up message series to put your offer in front of them again and again.
Create a Compelling One Time Offer!
One very popular method being used is to create a One Time Offer (OTO) to be displayed after any signup. This creates additional income for your home based business.
When your subscriber fills in the opt-in form to join your mailing list and get your gift, s/he will first see your One Time Offer page before downloading your freebie.
Your One Time Offer can be:
1 - A product that has an additional irresistible bonus that your prospect cannot find anywhere else. If he passes this offer but later decides to purchase your product, he will have to purchase it without the add-on bonuses.
2 - A product at a huge discount. If your prospect passes the offer but later decides to purchase your product, he will have to pay at its full price.
3 - A product or package that cannot be found elsewhere. You can assemble a group of products you either own or other people's (must be conveyed with Resell Rights) and sell at one irresistible price.
Writing your own One Time Offer with a good conversion rate demands a high degree of copywriting skills on your part. If you are not good at copywriting, you are advised to learn how to write a sales letter (especially if you are an Internet Marketer, as this skill is an asset to your sales success) or hire a good copywriter.
Your subscriber will first see your One Time Offer before downloading the gift. Your subscriber has two choices:
He can buy your product(s), or
He would not buy your product and chooses to proceed with downloading your free report.
Make these two options available at the bottom of your One Time Offer page.
If your subscriber buys from you, good! If he does not, s/he is already in your list and you can continue sending them quality content, gifts, offers as many time as you want until s/he buys.
Most of your website visitors are very busy, you have only 5 seconds to capture their attention. If you fail to capture your website visitor's attention once s/he lands on your website you have lost a life time customer.
Once you learn and create your first system following this strategy, the process becomes easy to duplicate and your time from concept to market becomes much shorter. But, are you getting the traffic you'd like to see to your website? Would you like to know what you are missing? If yes, go here
Regardless of what business you are in the KEY to success is your website visibility. Remember, if your site is not visible in top search results in major search engines, then you are loosing business and opportunities to your competitors.
Does your site rank in the Top 10, Top 20, or even in the Top 50 search results for your site's keywords? What is your website's link popularity? If you don't bring in Customers to view your affiliate links, products, services, etc... then all your hard work is in vain.