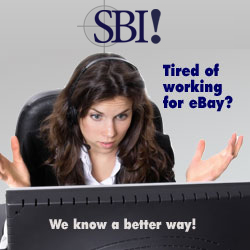 On March 24th, eBay banned all downloadable digital products from their system. Read
here
what they are saying.
So, as of 31st March 2008 if you sell digital items on
ebay
you will violate their policy. Now this will affects anyone selling digital items such as Websites, eBooks, digital audio and videos, graphics and any other product or service delivered electronically.
What Does This Mean?
If you are a Buyer, you will no longer be able to find cheap resale rights or private label rights for any digital product.
If you are using
eBay
to build your list, this indicates that you will no longer get thousands of new buyers on your lists each month the same way.
If you are selling digital goods you may lose your business!
Sure, you might be able to use the Classified Ads as eBay themselves recommends. But eBay reveals that you can't use their system for profits. That means you can't promote
affiliate programs
, you can't use buy now paypal links, and you can't use Classied Ads to make direct sales.
But, you can use it for lead generation and this is a great way to build your
customer base
using your
autoresponder
and still making big money if you set an email marketing system. I'll be back on this in just few seconds.
This may affect buyers and sellers alike!
If your clients are all over the globe your business will be affected seriously. As the delivery fees may cost you more than the cost of the product itself.
People may never buy from you if you are in another country for two reasons:
For one they can't wait 10 days or more to receive your product.
For the second reason they may not pay the extra costs.
If your product is the only one (or one of very few) of its type you may not going to lose a lot of business. But then eventually your expenses will increase and profits will decrease.
Now, what is perhaps needed as an urgent solution is to make your items physical. And the best way to do this is to burn your item to CD Rom and send it via regular mail. This is not hard if you set up a system to burn and ship CD's. This task can even be outsourced if you want. You just need to work out the cost of bulk buying CD's, envelopes and add these to the delivery cost of your items.
You can also use ClickBnak.com to sell your digital products. So, go to Clickbank's site and create your own personal account and list your product there.
How to Use eBay Cassified Ads to Create Even More Profits
Using their Classified Ads system you can place email capture form with an autoresponder set up. In fact, thats the only thing you can do.
How can you make money with an autoresponder?
As you know with a good sales letter you can't convert more than 3%, but if you use email marketing strategy you can get more subscribers promoting a FREE quality product and follow up with your subscribers until they buy or unsubscribe.
How it works?
Everything is at your fingertips. Just learn and apply...
By setting up this system you won't only make few sales from time to time but you will create an
intalled base base profit
that results in significant monthly income.
-----------------------------------------------------------
Do you want to free yourself of eBay dependency?
The "Big 3" will do it --> #1) Own #2) Diversify #3) Build equity.
Now
auction sellers
can build REAL businesses that YOU own.
------------------------------------------------------------
Do You Like This Article?
Subscribe in a reader
Related Posts